Bernese Testimonials
"Leena has truly become an irreplaceable part of our little family! She is a silly girl, full of life and means so well. She is such a blessing. Eternally grateful for you all and her. "

- Megan Whalen
"Bear is very loved and settling in nicely!!"

- Dukalski Family | Bay Village OH
Charity, you, your family, and dynamic breed of Berners have blessed me once again and made the experience an enjoyable one.
- Lauwren Mercer | Monroe NC
Jacqueline & Wrenfield littermates, Aphia/Jagger's puppies - 12/02/2021
Wayne Haywood, Patsy/Jagger's puppy - 02/14/2022
"Hank - from the late summer / fall 2019 litter from Ava and Torres. We absolutely adore him. He is such a sweet, goofy boy with such a big personality."

- Annie Lang | Cedar MI
"Loving our girl, "Asher", what a personality she has!"

- Kathleen and Chris | Simsbury CT
"He is loved by his family. He is a goof ball. Weighs about 85 lbs. He gets alot of treats. He loves the cold and snow."

- Louis Rauso family and "Trixie Rose" | Gibsonia Pa
"He is loved by his family. He is a goof ball. Weighs about 85 lbs. He gets alot of treats. He loves the cold and snow."

- Brett Krause and "Ferrari" | Hortonville WI
Myna and Reka, Birthdate: 03/09/2018

- Kyra Allen | Ogden UT
"People are non stop "star struck" by Moose when we are out in public!"

- KC Hahey and " Moose" | Redwood City California
"Hi Charity! It's hard to believe that our Archie Bear is nearly six months old. He's settled in great with our family and he LOVES his older, biological sister, Izzy! They're a match made in heaven and he's sure made our hearts full and our family complete. He's nearly 70lbs already and his paws tell us he's going to be a big boy! Just wanted to send you an updated photo and say thanks again for our lovable pups. I hope you are doing well."

- Jenny Emann | Wisconsin
"Hi Charity! Our family just wants to thank your family for our amazing Bernese! The whole process of making the decision to finally get a puppy all the way to when we picked him up was seamless and so organized. We 100% will be coming back to get Bernie a brother or sister in the future! Bernie is growing beautifully! He just had his second vet appointment last night (that specialize in large breed dogs) and they said he is a beautiful well bred Bernese! He is 38 lbs already and they said will be a big healthy boy! He loves taking walks, playing outside, swimming in the pool with the kids, and just being around us at all times, which is exactly what we were looking for! We cannot thank you and your family enough for such a wonderful addition! "

- The Reinke Family | Bay Village, Ohio
"Oliver, 14 months"

- Elliot Anderson, Mount Dora FL
Jack, 17 months

- Lisa Moore, Cypress Texas
Thought I'd share a picture of our Jack . He's ornery but so affectionate and such a good boy! We love him so much! Thanks again!

- Lisa Moore, Cypress Texas
"I just wanted to give you a little update on Bosley (Yogi)! He is growing so so fast and is the sweetest dog!! He was potty trained in about 5 days and continues to surprise us with his smarts and sassy personality everyday. He's my big cuddle bug but absolutely loves to run circles in the backyard to play. He also loves playing with other dogs, now that we've had him around a few. I just wanted to send you some pictures and to thank you so much for this wonderful boy in our lives now. Zack and I plan on looking for a house in the next year and are already talking about wanting another Berner so you definitely will be hearing from us when the time is ready! Thank you so much again!"

- Paige, Zack, & Bosley "The Berner" Turner
"Quinn", 4 months old with big brother "Benny"

- Matt and Amber Smith, Austin TX
"She really is a beauty queen. She is massive and such a sweet girl! She is loving the farm life. And is obsessed with our bed. She thinks she is a tiny little baby the way she will curl up on the pillows. LOL! She is not anywhere near tiny but that is the nickname we have given her. In all reality she is a GIANT! We love her to pieces!!! Thank you again! "

- Lindsie Johnstone, Scurry TX
"I just wanted to send you some pictures of our Panda. We love him so much! He is very adventurous and loves to hike. He is also very sweet and loves to snuggle. He is so smart and picks up new commands so quickly. Thank you so much for giving us this wonderful puppy! When we get another Bernese we plan to go with Willow Brook Bernese!"

- Jen and Chris O'Brien, Baldwinsville NY
"Pixel has been doing really well. He is a very sweet, easy-going, active, smart and gentle little guy. He is an incredibly social puppy who loves to greet and play with everyone. We love him so so much and we are surprised by how quickly he learns new commands and tricks every day. We would like to thank you for giving us such an amazing family member. And if we ever decide to get another puppy, Willow Brook Bernese will always be our No.1 go to. Best,"

- Bree & Hao
"We named him Fitzgerald, we call him Fitz. He has been such a great addition to our family! We love him!"

- Elyse Kebert, Conneaut Lake OH
"Hi Charity! I just wanted to give you an update on Boone. He was very well behaved on our drive all the way back to Wisconsin, where he quickly made many new friends! He's a very happy and healthy goofball of a pup, and is growing so fast! Thank you so much for making our take home day such and easy and enjoyable experience. We're so happy we went through Willow Brook Bernese! Sincerely,"

- Mike & Kayla, Sockville WI
"Just thought you might like to see an updated picture of Cooper. He has grown SO MUCH! We just love our little guy and everything that he has brought to our family. He's still very ornery but full of good personality. He loves walks at our local reservoir and being outside. When we take him places we always receive compliments on how beautiful his markings are. Thank you for providing the perfect fit for our little family. Best wishes,"

- Jacob & Brooke Staley, Van Wert Ohio
"So far...he is adjusting really well!! He is just so full of love and quite the talker (not a barker, just so many cute sounds). My kids and everyone else he has met, just love him! He is such a perfect addition to our family!"

- Jaycin Diaz, Shoqualmie WA
"His name is Pharley! We love the puppy so much. He is very smart and already knows sit and paw and has been doing great with going to the bathroom outside! We are very happy with him! Kindly,

- Jeremy Landy, Monroe NJ
"Yogi Torascio" with his new family,

- Steven Torascio and Kelly Wallace, West Hartford CT
- Jennifer Malone, Darien CT
Hi Charity! Just wanted to let you know Scout is doing great and adjusting well. Her favorite thing to do is play outside in the snow! She is such a great puppy and we are grateful she is apart of our family now.

- Josie Morningstar, Walhonding, OH
Hazey brings such joy to our home, she is happy and healthy ! Our daughter adores her!

- Kurt Harris, Malta Idaho
Thank you again for Charlie!! He is so beautiful and we are so happy to have him in our family!

- Mileena Ellis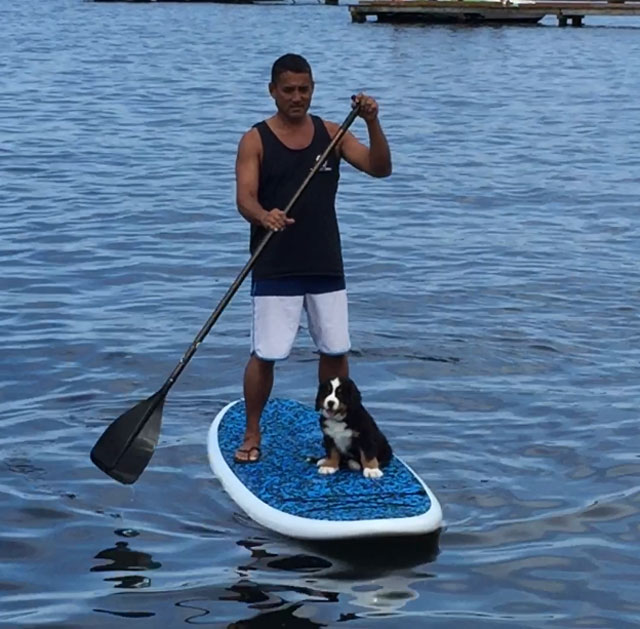 Hi Charity, I just wanted to give you an update on Oakley's progress. He has been the most amazing living thing I've ever seen. He spends his days down at the lake business with me. Also meeting many of my friends & customers. He had his first paddle board lesson yesterday & did really great. Here are some pics.

- Bobby
We got our Remi from Willow Brook, May 2017, and she has been the best addition to our family. She is the sweetest and healthiest puppy and we were thrilled with our experience at Willow Brook! Would definitely recommend!

- Caitlin Clark, Columbus, Ohio.
We are absolutely in love with Izzy Mae (that's what we named her)! She was such a good girl the whole ride home and she has warmed up to the entire family already. She's loving and calm and snuggly. Just perfect.

- Jennifer Emann, Janesville WI
Thank you again. I will HIGHLY recommend your business to anyone looking to add to their family! You run an incredible business. Thank you for all of your help through the process. We couldn't be happier! My daughter's named her Ursa!

- Ronald Hylton JR., Bonney Lake WA